Just a short drive from Marrakech city centre is one of the best adventure activities on offer in the area. Quad biking has often been plagued by myths that it is dangerous and often has been accompanied by accidents. Our partners Dunes and Deserts have been running quad biking trips in Morocco for longer and safer than anyone else. All participants are given a full safety briefing and the most up to date quality gear on the market. This half day trip will give you not only a superb quad biking experience, but also a wonderful insight into Moroccan life as we travel through amazing villages and stop for the obligatory mint tea en route.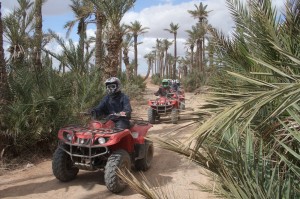 Options for this trip also exist if you decide to visit the amazing coastal town of Essaouira. Possibly best known for kite surfing, Essaouira is also famous for it's world class dunes to the south end of the beach, perfect for any quad biking enthusiast. No adventure holiday is complete in Morocco without a fantastic few days spent in Essaouira. We have daily departures each and every day of the year for 2 nights.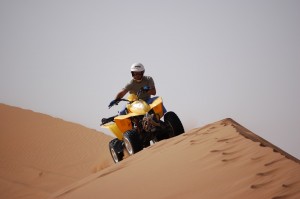 Quad biking trips are available daily for half a day and for a small additional charge a passenger can also be taken on the back of the quad bike.