Morocco being close to Europe has become a popular destination for adventure seekers. In the winter months, Morocco has excellent whitewater rafting and kayaking. The most notable rivers that are run are the Ourika River, just a short drive (45 minutes) from Marrakech. The river tends to go up and down quite quickly and as such can be a thrilling rafting trip, or in lower flows and excellent tubing trip. This is where guests are given a specially designed inflatable tube which they paddle down the river using hand paddles worn as gloves. The Ourika can be run from January until June with either rafts or tubes.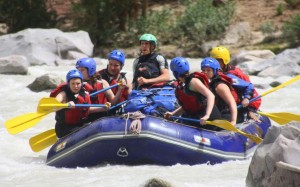 For people after a more authentic rafting experience, it is well worth making the Ahansel River a priority on your next trip. We pioneered rafting and whitewater in Morocco nearly 15 years ago and have been leading the way pioneering new rivers and canyons ever since. The Ahansal River is 2 days of fun whitewater, mostly Grade 2-4 which is perfect for families, friends and corporate groups to come and experience a unique part of Morocco. At the end of your trip, you'll get to relax and unwind in a hot tub or sauna and enjoy lunch before driving back to Marrakech. As part of your trip, you'll get to see the stunning Cascade D'Ouzoud, Morocco's highest waterfall.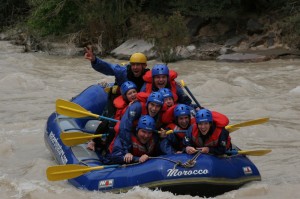 If you are a kayaker and wanting to explore Morocco, we have a number of trips to help out, whether it is with paddling logistics, taking a tandem kayak down the Ahansel River for some adventure, or learning to kayak, with our well known Morocco Kayak School.